40 Reasons God DELIGHTS in YOU
Dr Jim Brown's TruNorth Devotional
40 Reasons God DELIGHTS in YOU
Day 10 | GOD ALLOWS US TO KNOW THINGS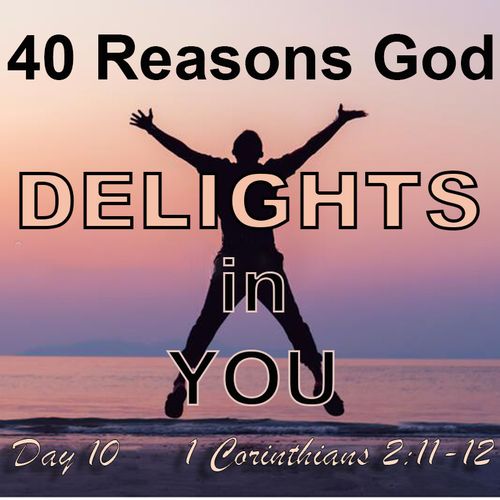 GOD ALLOWS US TO KNOW THINGS

1 Corinthians 2:11-12
"For who among people knows the thoughts of a person except the Spirit of the person that is in him? So also the thoughts of God no one knows, except the Spirit of God. Now we have not received the Spirit of the world, but the Spirit who is from God, so that we may know the things freely given to us by God." (NASB)

Have you ever thought about what you think about? Every day, we think thoughts, feel feelings, and speak words… all of which originate in our minds.

And then we come to the issue of God – an infinite being, who made us, lives everywhere, and knows history from the beginning to the end. How do you relate to that? How do you and I even know about God?

We know about God because HE has allowed us to. God, the Creator of all that is. God, the One who sent His Only Begotten Son to earth so that we might have forgiveness and life eternal with Him. God, who could have easily kept His existence hidden from us, decided that He wanted to have a relationship with us, His creation.

And therefore, not only did He send His Son, but He revealed Himself to us in ways that we could grasp. Let's face it, God's ways are higher than our ways. He is a perfect, infinite, all-powerful being totally incomprehensible to we finite, frail imperfect beings. And yet, God allowed us to know things so that we might have a relationship with Him, the Creator.

Many today on planet earth do not want to know the Creator. Many today think that THEY are the pinnacle of creation, that THEY have it all figured out, that there is no eternity, no heaven, no hell, no God, no Jesus, and no afterlife.

And yet, within us all – I believe – is a still small voice that says, "there is a God."

Prayer: Thank You Lord. Not just for You being You, but for enabling me to recognize that You are, that You sent Your Son for our benefit, and that I can have a real relationship with You. Amen.