Dr Jim Brown's TruNorth Devotional
40 Days of PEACE
Day 19 |GREAT PEACE | Psalm 119:165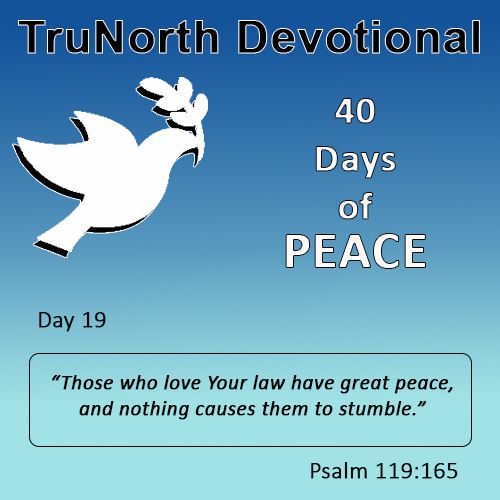 GREAT PEACE

Psalm 119:165
"Those who love Your law have great peace, and nothing causes them to stumble."

Psalm 119 is unique. It is the LONGEST chapter in the Bible. Perhaps written by David – but we don't know for sure – it has much to say about the Word of God, or as it says here, "Your law."

Staring in Psalm 1:2, we read: "And his delight is in the law of the LORD, and in His law, he meditates day and night."

Here in the 119th Psalm, we are still reading about the benefits of God's law, God's Word, the things He has said to us.

It's simple: "Shalom" or "Great peace" comes to those who LOVE God's Word. Shalom – the Hebrew word used here – indicates all the peace and the good that comes to the one God favors.

The verse doesn't promise PEACE to those who perfectly keep God's law (who could do that), but to those who LOVE God's law. In addition, this verse promises that NOTHING shall cause us to stumble in life.

How do you feel about God's law? Not so much what do you KNOW about God's law (aka the Word of God), but do you LOVE it?

When our children were little, my wife and I used to read to them. They loved it when we did and listened attentively. We read stories to them (like Chronicles of Narnia) that would benefit them in some way and were fun.

Have you ever considered that the LORD cares about us like that too? He has preserved these stories and precepts for our benefit and wants us to LOVE His voice and His Word and enjoy GREAT PEACE.

Prayer: LORD, I do love your Word. Please help me remember that everything you say in your Word is ultimately for your glory AND my benefit. Amen.